This page has been recently updated to include new photos taken in May 2018. The page was originally dedicated to a fundraising event that allowed me to go to Alaska for the first time in 13 years. I did not expect to go back anytime soon, but thankfully I got to go with my husband Phil and we had a great time there with my dad and friends and during that time I got to make a lot of new landscape photos and did some photography work for locals as well. It was truly epic, here are some highlights until I get the whole story fully organized. To purchase any photo you find on this page, you can contact me at the connect page.
The most exciting venture of Grace June Imagery happened in March 2017, when I finally made the journey home to Alaska after having been absent for 13 years. Before leaving, I made many fundraising efforts. Two local businesses supported the trip, people who are supportive of my art donated to my GoFundMe, and I ran a co-charitable mini session fundraiser that supported Project Unconditional Love and also paid for a ferry cabin for the trip back. In summary, good people of Spokane, family and friends sent me and my friend Natalie to Alaska so we could have an art adventure. What follows is an overview of the adventure.
Natalie, my dad, and I set off for Alaska on our adventure.
One of the most interesting parts of the trip was our three day road trip through Canada. My poor dad had to deal with our crazy energy for three straight weeks. That's only partially true, driving over the Alaskan Canadian Highway through the snow and ice for three days isn't as relaxing as it sounds. Natalie slept a lot and I was derping away on my laptop, smooshed between my gear and the car door like a sardine. My dad is the real champ, driving 10+ hours a day and got hotels and food for Natalie and I the whole way. My dad turned out to be one of our most supportive contributors. Furthermore, my dad got me some amazing photo opportunities including one photo that is now hanging on a couple walls:
Below is a brief chronicle of our three days. We stopped many places along the way that didn't make the cut, since I have a couple thousand images from this time. I enjoyed being in the car with dad and Natalie, enjoying the snowy scenes and an abandoned gas station. I got a couple nice landscapes in there and explored my obsession with birch trees.
Upon arriving, I started photographing people I met, or used to know. I love photographing people, especially folks I haven't seen in years like Crystal, Kristen, Leah and Mike. I made an album on Facebook called people of Skagway. Here are some of my favorite photos.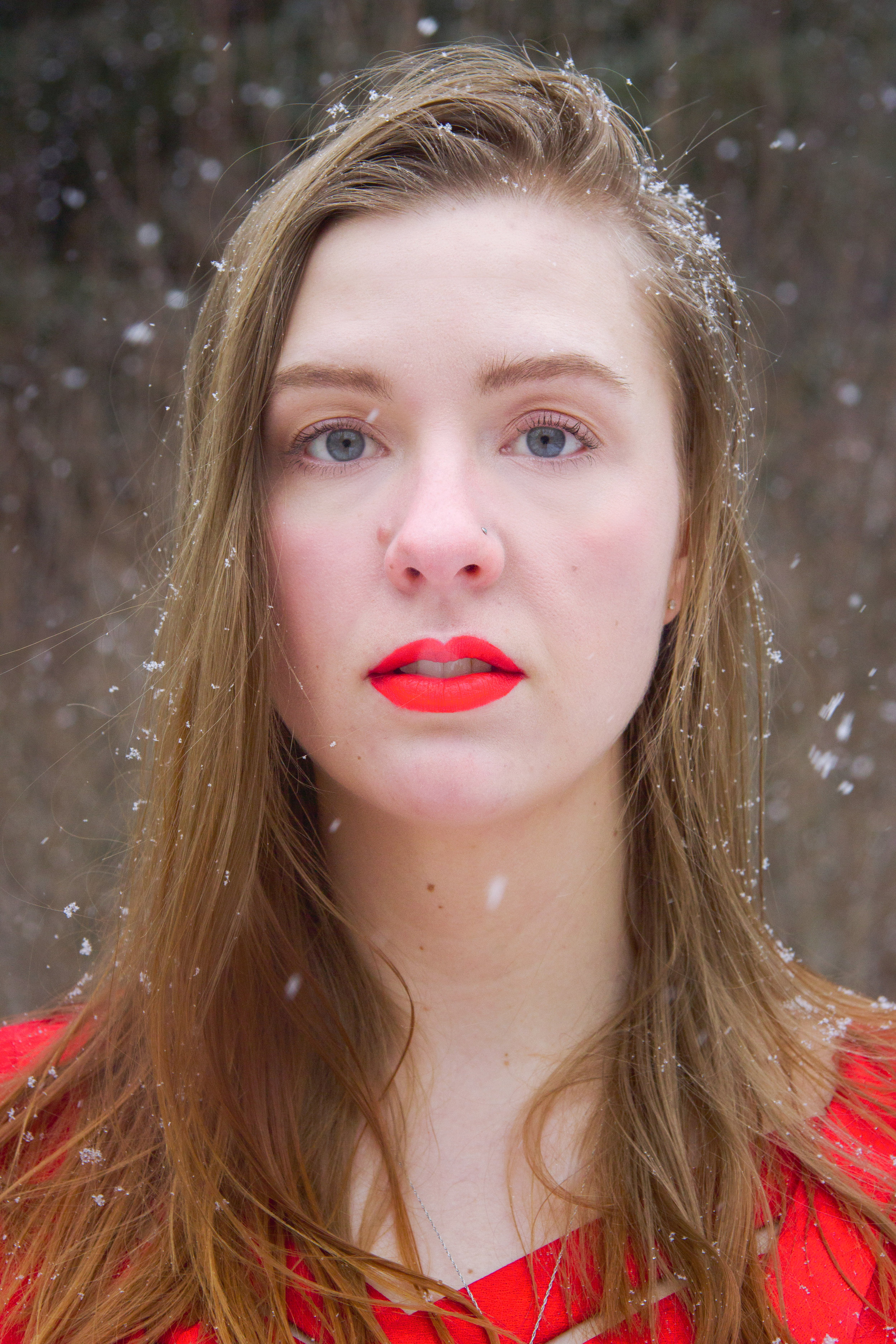 My friend Natalie joined me as both a photo assistant and a model. She made herself a red dress and we planned to do a series of images that were intended to be a narrative on person in nature, or simply a relationship of the human being and feminine energy to our planet. However, I was reading about portraiture and concluded that when photographing a person, it is more impactful to make the image about the person, instead of projecting an idea onto the person. Perhaps not always or strictly, I don't have a particular standpoint on that topic, but in this case I chose to make the photos about her.
Natalie has Asperger's. She is intensely sensitive to light, sounds, touch, temperature and other sensory perceptions. I wanted the red dress to symbolize her autism, that it's something she takes with her wherever she goes. While getting to know her, it became obvious that rather than her autism being something incredibly inhibitory, Natalie learned over time how to cope, co-exist, and relate to others, overcoming aspects of her sensitivities that used to significantly interfere with her life. I see her differently-abled brain as incredibly beautiful, and hope to honor that beauty through this series of photos.
This next segment is about my dad.
Our family has been in Alaska for generations. My great grandfather is buried in the gold rush cemetery, my grandpa was born in Skagway as was my dad. I was born over the border in Whitehorse, Yukon Territory and spent my early childhood in different parts of Alaska, leaving briefly then returning when I was nine. So I've got deep Alaskan roots. It meant a lot to me to return and especially to return with my dad who I don't get to see often. It is relevant to note here that sometimes teenagers and parents don't get along. That was somewhat the case for my dad and I. Fortunately, things have changed and my dad and I are cool. With the next series of photos, I wanted to look at what my dad's life is like as a pastor as well as reflect on my understanding of the Christian faith with some of my memories sprinkled in there. The photo of me in the baptism tank is where I was baptized at four. Other photos are details in the upstairs unit of the church where my dad lives during the summer while pastoring the Assemblies of God church.